… or "getting your ducks in a row"
One of the many things that has delighted me about joining Grant Thornton has been the fantastic experience of my new team. I've been lucky to join a group of people who have delivered a huge number successful NHS capital business cases. So, we got together and asked ourselves – what are the most important things NHS organisations can do to make their projects succeed?
Here's what we came up with. What do you think is most important?
1.

A compelling case
You need a great case. OK. That's a bit obvious – but how do you do it?
Really understand it: Too often we know a case at a superficial level and it seems obvious. But that case can be easily undone if you haven't fully worked through the implications: clinical, operational, financial, real estate, design, costings and commercial.
Ask yourself:
Do you have enough contingency built into the costing that you won't need to keep revising the price upwards?

Is the design flexible so that you can change the purpose of the space if demand or services changes in the future?

Can space be shared if services don't run 24/7?

Is it efficient operationally?
Does the design improve patient outcomes?

How does it play into the planning for the system and the region?

Might it be better designed or developed in conjunction with the local authority?

Does your financial plan properly consider the cost of future capital charges and depreciation on the build?

If you are replacing a building, have you accounted for the reduction in capital charges and depreciation on that?
And even if your project director knows the answer to all these questions, his or her efforts can be undone if the key members of your board can't also easily explain it.
Think about contingencies: Be brutal with yourself about what can go wrong. It's difficult to plan for something like the Carillion collapse – but it is possible to predict that tariff might stay flat, that demand might rise without a matching rise in income, that you will need to pay staff more, that construction costs might rise or overrun or that FTFF interest rates might move.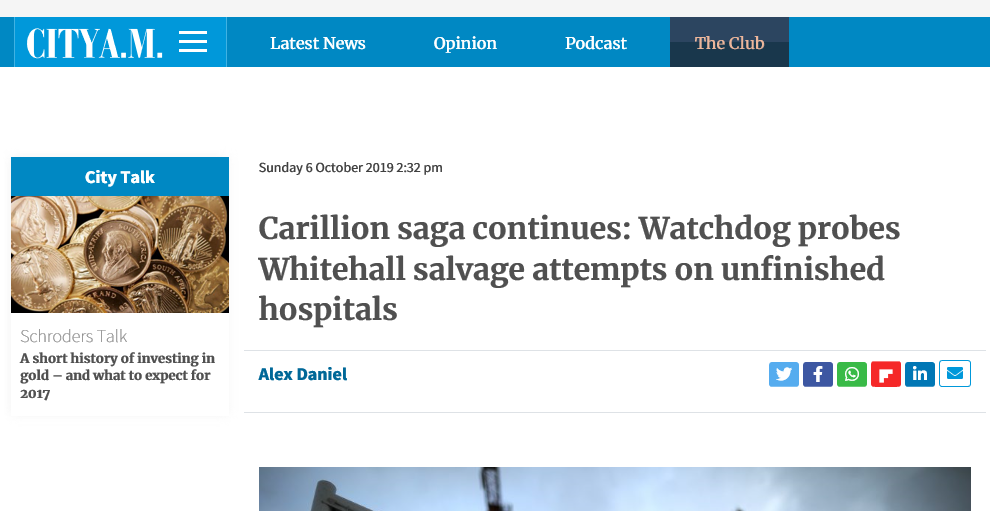 Write it well – tell the story: You need to take the business case guidance seriously, but don't let it stop you telling the story of why you need the development. Too often, the rush to fill in the dry mandatory headings (some of which will be barely applicable) means that the message of the case is lost amongst the compliance. There are few documents as dull as a slavishly filled out Five Case Business Case. You know your rationale. Make sure it comes through on every page.
2.

Have a plan for the commercial risks
Make sure that you have considered the following questions:
How are you planning to design the construction contract?

Will it be fixed price or an alliancing/risk share structure like P22?

How is the construction brief written and how will that be incorporated into the contract?

What work will be done to make sure that it meets clinical requirements and construction standards – nobody wants a £16m typo!

(Read how a typo delayed Edinburgh children's hospital opening by a year)

What work have you done to make sure that the contractor is financially secure?

Are you planning to have retentions?

Do you have security deposits or guarantees?
How are you going to sign off stages of work and therefore payments?

How will you run the procurement process?

How highly will you score design against price?

If bidders have good ideas which might reduce your future operating costs, is your process set up to reward that?

Are you looking at any complex structuring or partnering?

If you are developing the project with a partner, are they locked in and have you agreed all the terms.

If the structure of the deal (or the property vehicle) is not routine, look carefully at whether that structure really works and whether the department is likely to agree with it – or see it as an unnecessary complication.
3.

Look for new financial benefits
Taking the time to find ways to bring money into the NHS might well help you pay for a better place for patients.
If you are going to benefit from new and improved facilities, does it make you more attractive to your research and development partners?

Could you include space for universities, life sciences organisations or suppliers – and make a turn on the rental?

Could you become more commercially successful by providing space that helps your people to collaborate or innovate?
Do you have the technology you need to do that?

Do you have estate with a high footfall or desirable location?

Can you subsidise the development with retail, housing or commercial space?
4.

Talk, listen and keep doing it
NHS organisations with a plan are often reluctant to talk to the centre about it, for fear that they will be crushed by criticism or comment. It doesn't say great things about he culture of the service - you really shouldn't feel like you need a fully formed knock-out case before you can unveil it to the regulators for a helpful chat. Nonetheless, I think it's important to overcome this worry and build a constructive relationship with the system you're in, with the regulator(s) and the department. Sometimes capital can materialise unexpectedly. You are more likely to benefit if the system knows that you are planning something. A dialogue with the centre might bring more commercial and estates expertise your way. It might help you anticipate objections and concerns and plan for them. And, yes, it might mean that you get a very clear no. (It's more likely that you get a "think again" or a series of possibly quite useful comments.) But, if it is a clear no, at least you won't be wasting time and money on something which was probably never going to fly. If the need is genuine and acute and you champion that need with conviction, there will probably be a way to make your case.
"Talk, listen and keep doing it" also applies to your own organisation. It's not unusual for clinicians to be consulted on a development at some point. But if that's the end of it, you might find that their needs have changed but your plan hasn't. Medical innovation can move quickly at times. You might find that more patients are being treated medically than surgically and that might influence how you plan for beds and theatres. There is a depressing flow of stories about expensive facilities standing unused or underused. At some point in the past somebody believed these buildings were essential – so it's important to keep talking and adapting. Similarly with the board, it's important to be sure that the executive buy-in you once had is still there. Otherwise, you might spend a lot of money developing planning, design and business cases that ultimately fail.
5.

Understand the process
I can't wait for Matt Hancock's new "spectacularly more straightforward" process for approving capital business cases (click the image for the article). For years, I've been raising this repeatedly about both the merger business case and capital business case processes. But just in case the new process takes a bit of time to kick off, it's probably still worth familiarising yourself with the existing process and being sure that you are following it correctly. DHSC and HMT will look carefully at your case, but they will also rely on the regulator and members of your system to back it up. Make sure that your LTFM and your CIAM numbers agree to the control totals and forecasts you are otherwise discussing with the regulator and the system. Make sure that your commissioner recognises the revenue you are forecasting from them. Anticipate the various levels of sign off (including Local Authority planning) and allow time in your programme for them.
So there you have it. Five things to think about. What do you think? To give your project the best chance, what, in your view, are the most important things to get right?
And for anyone who managed to read this far, you're the kind of people who deserve to know that the picture is *actually* of baby swans.
unknown

x

500
More posts by Matt Custance
Recent posts from Public Services